CLICK HERE TO SEE ACTIVE SIGNUPS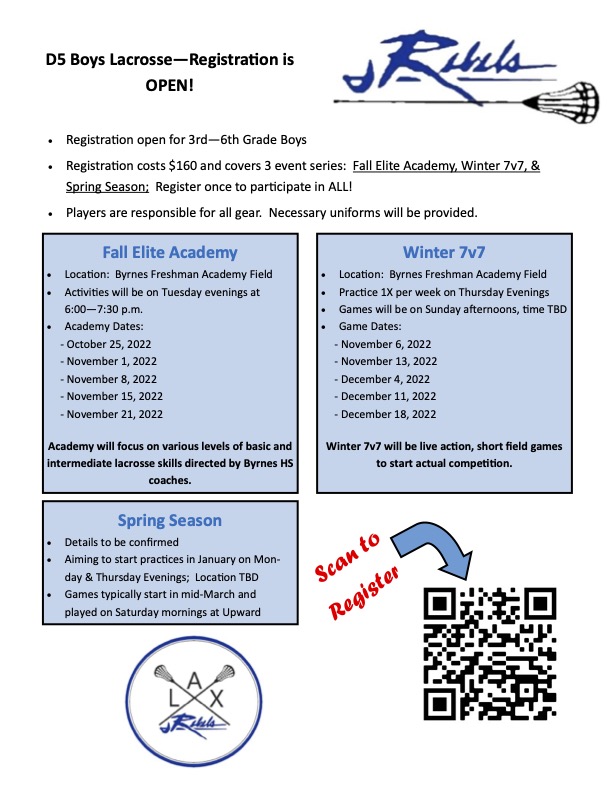 We are announcing the beginning of our registration process for our D5 Boys (3rd - 6th Grades) Rec Lacrosse programs! This year we are signing up early as we adapt our program and offerings for our players. Our intent is to be able to grow participation in our sport by offering a more comprehensive program that will include three different phases or seasons. To make it easier to achieve this, we will do one registration process that will cover all three phases of the program. So, if you sign up early, you will get much more "bang for the buck" with these three great phases. Please see the attached flyer for an overview.
The initial phase, our Fall Academy, will start on October 24th, so please sign up as soon as possible. Also, please pass this along to all interested friends and family members that may be interested. This initial phase is the perfect opportunity to learn and continue to practice basic fundamentals of lacrosse.
Thanks and Best Regards,
Brad Kinard
D5SAC Boys Lacrosse Director
EQUIPMENT REQUIRED
All players are required to purchase equipment on their own including:
BOYS
lacrosse helmet
Lacrosse shoulder pads
Arm pads
Lacrosse Gloves
Cup
Lacrosse Stick (Short Attack Stick Recommended for Beginners)
Mouth guard
Cleats